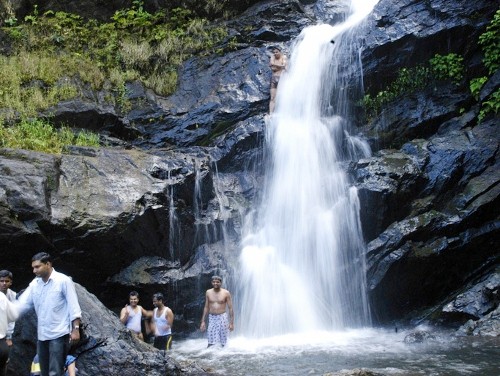 ---
Iruppu Waterfalls only 5 km from Anizham Jungle Star. At a distance of 248 km from Bangalore, 110 km from Mysore, 75 km from Madikeri, 48 km from Virajpet, 32 km from Gonikoppal, 20 km from Nagarhole National Park, 10 km from Kutta & 10 km from Srimangala, Iruppu Falls is a magnificent waterfalls situated in Brahmagiri Hills between Srimangala & Kutta in Coorg district of Karnataka State, bordering the Wayanad district of Kerala. It is one of the best waterfalls in Karnataka and also one of the well-known Coorg tourist places.
The Irupu Falls or Iruppu Falls is also known as Lakshmana Tirtha Falls locally. It is formed by Lakshmana Tirtha, a stream originated in Brahmagiri Peaks and joins Kaveri River. According to the legend, Lord Rama and his brother Lakshmana passed along the Brahmagiri range in search of Sita. When lord Rama asked his brother to get some drinking water, Lakshmana shot an arrow at the Brahmagiri hills and brought into being the river Lakshmana Tirtha.
Dropping from a height of 170 feet through several stages, the falls are situated amidst thick forest of Western Ghats. The roaring waters of the Irupu Falls and the picturesque surroundings make it a favorite picnic spot. It is an unforgettable experience to stand at bottom of the cascades and play in the sizzling waters of the falls. Iruppu Falls is a part of the Brahmagiri forest range, there is a trek route that leads to the Narimale forest camp and then on to Brahmagiri Peak. Permission from forest department is needed for doing this trek.
There is a temple called Rameshwara Temple dedicated to Lord Shiva is located on the banks of the Lakshmana Tirtha River, enroute to the falls. It is said that Lord Rama himself installed the Shiva lingam inside the temple. This temple attracts a large number of pilgrims during the festival of Shivaratri.
Kozhikode Airport is the nearest airport, which is about 145 km from Iruppu Falls. Mysore Junction Railway station is the nearest station which is about 110 km from Irupu Falls. Kutta is the nearest Bus station to Iruppu Falls. It is well connected by bus from Mysore, Madikeri, Virajpet, Gonikoppal, Kozhikode & Kalpetta. Kutta has various accommodation facilities.
The falls is at its best in monsoon and post monsoon seasons. The best time to visit Iruppu falls are from August to January while the peak season is from September to December. Usually it takes half day to visit Iruppu Falls.
Timings: 8 AM - 6 PM
Entry: Rs. 20 for Person